Film Screening and Panel Discussion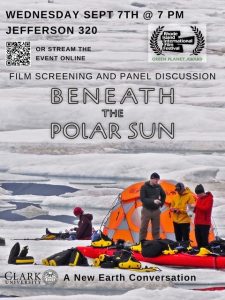 NEC hosted a fun film screening and panel discussion Sept. 7th!
In the Arctic's Last Ice Area, 500 nautical miles from the North Pole, a scientific team is on a rare mission to measure the world's oldest ice floes. Tiny specks in a vast ocean wilderness, they are alone. And they're in trouble. Jumbled slabs of sea ice are closing in from every corner. Hauling loaded kayaks, the team struggles to follow a route that had been navigable only years earlier. Trapped in a frozen maelstrom – caught in the grip of the floes they came to study – something has to give. The science is scuttled: bearing witness to Earth's most pressing existential threat, what matters now is survival. They must escape the chaos by traversing a narrow channel between Canada and Greenland – the most formidable passage of the polar North.
To check out the film's panel discussion with the filmmakers of the https://clarku.hosted.panopto.com/Panopto/Pages/Viewer.aspx?id=1de35a88-2a71-4d6b-b5b5-af0a010879cf