Sacred Instructions
Indigenous Wisdom for Living Spirit-Based Change
THURS February 13  | Higgins Lounge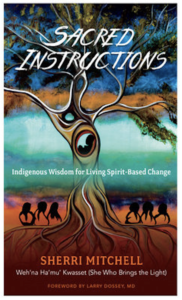 Drawing from the ancestral knowledge of her Indigenous roots, and her experience as an attorney and activist, Sherri Mitchell addresses some of the most critical issues of our day. Mitchell's teachings provide a road map for the spirit and a compass of compassion for humanity. She offers readers a new path forward using timeless Native American wisdom that transforms the way that we see the world and our place in it. She deftly makes the timeless modern and more relevant than ever, by using ancient perspectives to address the disconnect and despair that so many people feel in the world today. This talk is recommended for anyone wanting the healing of self, society, and our shared planet.
Sherri Mitchell attorney, writer, teacher and activist, Penobscot nation
---
Watch the full recording on the Clark video archive.
[youtube width="100%" height="100%" autoplay="true"]https://clarku.hosted.panopto.com/Panopto/Pages/Embed.aspx?id=380ea60d-6df8-4e8f-b043-ab8b01401038&ignoreflash=true&referrer=https%3A%2F%2Fcommons.clarku.edu%2Fvideoarchive%2F286%2F&v=1[/youtube]