From Flood Waters to Fish Ladders
Learning about resilience in Lowell, MA
On October 4th, Professor Cindy Caron's NEC Collaborative course, Culture, Environment and Development, visited the City of Lowell, MA to examine how socio-ecological thinking relates to city natural resource planning, economic development, and community resilience.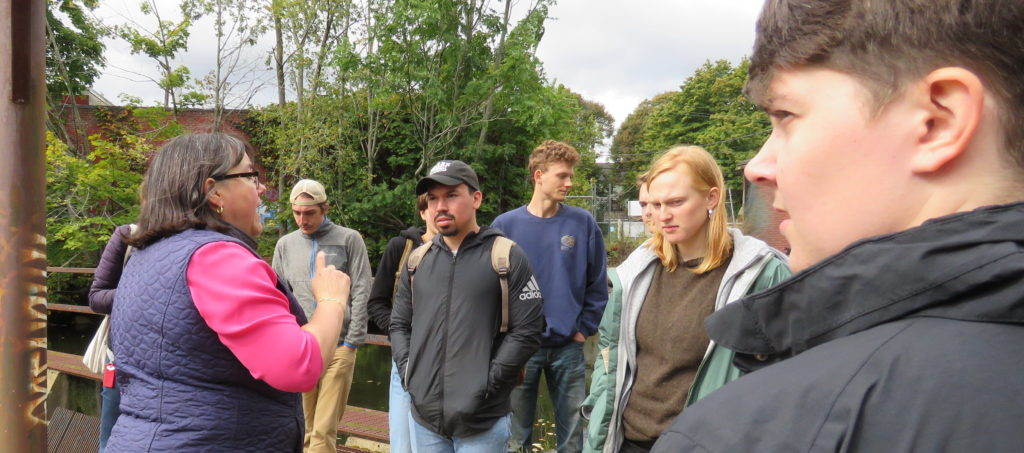 The class met with Ms. Jane Calvin, Executive Director of the Lowell Parks and Conservation Trust, and Ms. Christine McCall, Senior Planner for the City of Lowell.  Ms. Calvin and Ms. McCall took the class to three sites to explain how they work with other community leaders and city residents to manage flood waters, the city's river systems, and increase the public's access to open space.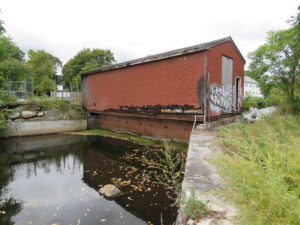 The course, "Culture, Environment and Development", takes a socio-ecological systems approach to natural resource management, which focuses on the relationship between the built environment, the natural environment, and social institutions. Engineers and planners built the industrial, mill City of Lowell at the confluence of two rivers, the Concord and the Merrimack.  They built dams and levees to provide a stable supply of water for electric power and industrial production. These obstructions (as elements of the built environment) modified river flow and river access. River modification effected the spawning of a number of Diadromous Fish species, such as river herring, which spend portions of their life cycles partially in fresh water and partially in salt water (the Atlantic Ocean).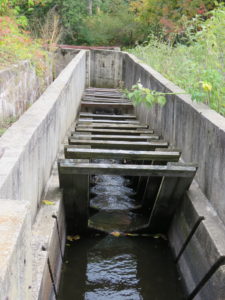 One of the sites the class visited was the gate house and fish ladder at the Centennial Falls Dam on the Concord River in Lowell. The fish ladder helps fish move up river and around the obstacle that the dam presents. The owner of the gate house at Centennial Falls Dam (a private business) allows local environmental organizations and the Massachusetts Division of Marine Fisheries to store video equipment inside the gate house for video-monitoring of fish migration and to hold annual fish counts. Volunteers from the Greater Lowell area may participate in the annual 'height of the season' fish count to record individual fish, as they pass through the gate house.
The trip to Lowell and the fish ladder illuminate why socio-ecological thinking is important in natural resource planning and economic development.  Bio-centric values are paramount for the survival of our natural world. When human society modifies the natural environment, someone must come forward to address the negative implications of narrowly-focused, economic development-oriented decision making.  The fish ladder provides an example of how local and state environmental leaders, the private sector, and city government officials, work together to make sure that river-dwelling species such as Diadromous Fish can continue to thrive in their native habitat.